Post by Neviah on Aug 16, 2015 22:26:15 GMT -5
[attr="class","plbase"]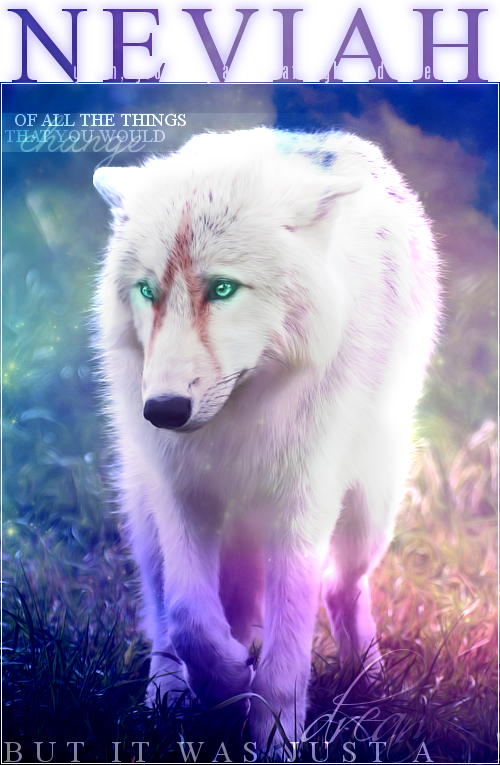 [attr="class","pltxt"]
There was something in Isaiah's words that had resonated with the dire female. To date, she could not put a paw on what it was that drove her to the water's edge. There was something in the way that Isaiah looked at her that made her feel special in a less possessive way. She did not feel like a possession, but rather an equal in his presence. Perhaps it was a fool's errand to attach herself to the first wolf that showed an interest in her, but right now she could not bring herself to differentiate between a friendship and a relationship that Isaiah sought. She knew there was something different when she was around him; she felt lighter, as if he was lifting some of the weight off her shoulders. But how could she know what that meant? All she knew was that she wanted to be around him, and from the moment he had walked away, she fought the urge to go after him. It had been several days since his departure, and all Neviah could bring herself to do was wander aimlessly through the forests of Acerbus, basking in what she once saw as beauty. But without Isaiah there, there was a certain sense of lackluster that she could not reconcile with the area. She could not remain there longer without company. The opposition he provided had brought the light back into her eyes, and she was determined to seek that out again.
And so the female found herself staring at the waters of the western coast, her eyes unable to even identify the landmass that was a mere speck on the horizon. She was expected to swim out to that? Surely these wolves lacked a certain sense of sanity if they chose to dwell in an area that could only be reached by sea. It would take all of her strength to get out there, and that was assuming no riptide tried to sweep her away. She was all too cautious of the water; there were dangers that lurked beneath the surface. But how else would she be able to make it out to the island that Isaiah was now calling home? His invitation had been errant, but that did not mean she did not see the meaning behind his words. He wanted her there, and in her heart, she knew she wanted to be there, too. She knew nothing of these wolves, yet she was willing to put herself out on the edge of the cliff in order to follow a wolf that she had just met. Perhaps she was lacking just enough sanity like these others to drag her across to the island.
And so the femme dove in, her paws quickly departing the ocean floor as she paddled evenly, attempting to keep from exhausting her strength in the first few minutes. She had a long journey to make, and she would not be able to do it if she became too eager. However, as the minutes turned into half an hour, and that half hour to nearly an hour, it seemed as if the island was not even growing larger on the horizon. Her spirits were sinking; was this even possible?
Isaiah managed to do it. He is waiting there on the island, and I must find him. I need to find out what this is. What we are,
she reminded herself, the thought driving her forward with new found vigor. She could do this, she was sure of it.
At long last, the landmass started to grow as the salty waves swirled around her, smashing into her face over and over again as she gasped for air. She was growing so weary; maybe this was not the best idea, after all. It could have been less than sixty yards away when the dire female felt her legs give way to exhaustion, unable to push forward any longer. Her head dipped below the surface as she lunged up once more, gasping for air. She was fighting the waves that were finally starting to push her inland, but at what cost? Her head dropped below the water once more, allowing the current to drag her closer and closer to the beach as she slipped in and out of consciousness. With one last burst of energy, she gasped in as much air as possible before she slipped under the water one last time, exhaustion giving way to blackness as her nearly motionless form washed up on the shore of Ina'mos.
She had made it, but at what cost?
---
Tags
:
Roka
Words
: 767 words
Notes
: Might wanna resuscitate her. XD
[newclass=.pltxt]position: relative; z-index: 200; opacity: 0; transition: all 1.5s ease; -webkit-transition: all 1.5s ease; -moz-transition: all 1.5s ease;[/newclass][newclass=.plbase:hover .pltxt]opacity: .8;[/newclass][newclass=.pltxt::-webkit-scrollbar]width: 8px;[/newclass][newclass=.pltxt::-webkit-scrollbar-thumb]background: #9685f9;[/newclass]