Post by Neviah on Nov 30, 2015 23:21:38 GMT -5
[attr="class","plbase"]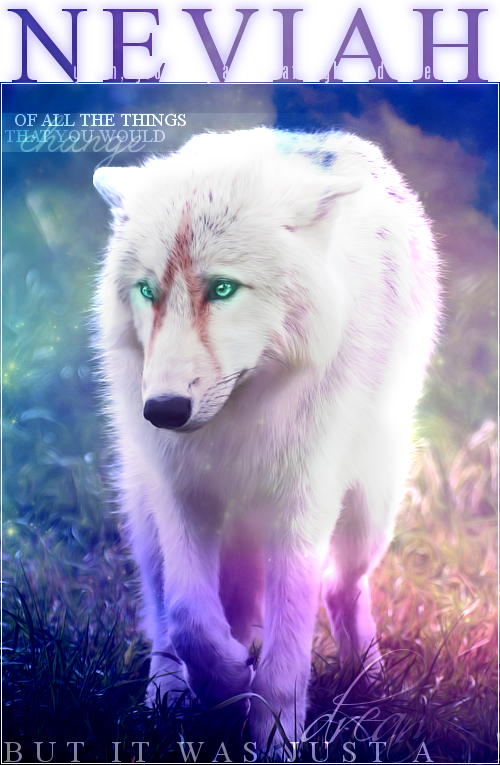 [attr="class","pltxt"]
There was nothing but darkness.
It had been far too long since the bright-eyed femme last drew a full breath. As she laid wheezing on her side, water still threatened to spill from her lungs.
I made it.
Somewhere, the gods were smiling down on Neviah, blessing her with their protection as she swam from the perilous mainland out the the island haven. It was here that she would find her other half. It was here she would continue to pursue Isaiah, as he had only begun to pursue her. Somewhere inside, she knew that from the very moment they met, their destinies were forever intertwined. The strong-willed dire femme could not fight off the magnetic pull she felt toward the male, particularly in his absence. It had been far too many months since their last encounter, and his parting offer, to find him on the island, had never been far from her mind. It was with that encouragement that she fought onward.
And fight, she had done. But as the waves swallowed her whole and spat her out on the shoreline, it was only with sheer luck that Neviah still survived, albeit weak and deteriorated from the lengthy swim. Months of malnutrition drew the very strength from her body, tearing it away from her until the only thing that had driven her forward was sheer determination. There was a life waiting for her across that channel, she was certain of it.
But as the light-coated female opened her bright teal eyes, she blinked in surprise. There was no Isaiah to greet her, no welcoming nuzzle from the male she thought would surely be there to greet her.
Surely he is around,
the errant thought drifted through her mind as she succumbed to the exhausted that threatened to drag her back into the back.
She would find him. But for now, she would rest.
---
Tags
:
Sabaoth
Notes
: I am playing this off that the thread where she washed up on the shore was no more than a day ago - we'll throw it around as if she had been wandering and didn't come around to Kairos for a while to seek out Isaiah. Sorry this is kinda dumpy.
[newclass=.pltxt]position: relative; z-index: 200; opacity: 0; transition: all 1.5s ease; -webkit-transition: all 1.5s ease; -moz-transition: all 1.5s ease;[/newclass][newclass=.plbase:hover .pltxt]opacity: .8;[/newclass][newclass=.pltxt::-webkit-scrollbar]width: 8px;[/newclass][newclass=.pltxt::-webkit-scrollbar-thumb]background: #9685f9;[/newclass]