Post by Ryker on Feb 17, 2016 19:40:14 GMT -5
[attr="class","plbase"]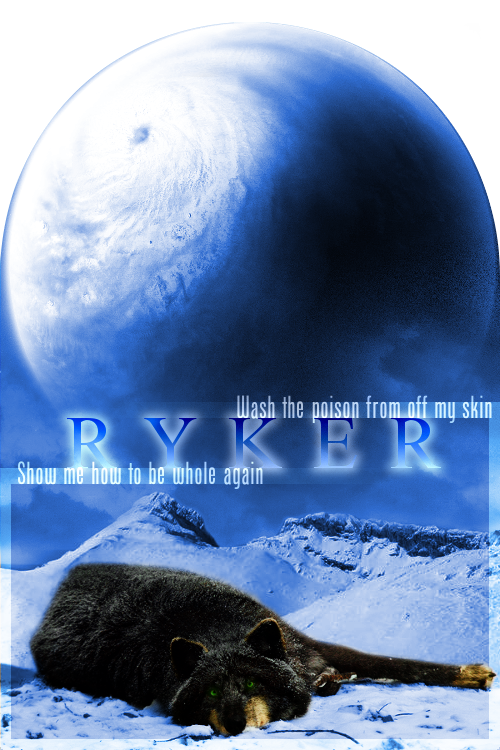 [attr="class","pltxt"]
The majority of the pack seemed to be away, and for that, Ryker was somewhat relieved. Though he was enjoying the feeling of belonging for once, he was still mildly uneasy about spending time with the body of the pack. Galathe had been an interesting introduction into the pack, and he was not certain what to make of the young male just yet. Certainly he would grow more fond of him with time, but Ryker's instincts told him to be cautious of everyone. Even the alpha of the pack was up to suspicion in this place, though he would never be caught dead telling anyone his true thoughts. It would likely get him thrown out of Aleru, and the vast expanse of Anikira was far more dangerous to him than this little hole in the ground.
But it turned out, this litlle hole was not so little after all. As Ryker wandered the territory, the sound of gushing water caught his attention. What he discovered was far beyond what he had imagined. An entire ocean ran through this cave! Though the water was merely an underground river, the darkness kept Ryker from seeing the far side of the water, and much like the ocean, the water went as far as he could see. There was something remarkable to be said about this place; Ryker was constantly surprised by the territory. What he had once thought would merely be a small cavern was likely an old aquifer, spanning much further than he first anticipated. But the best thing about the water was that he could finally drink without worrying about someone lurking over his shoulder. His mind drifted back to the desert femme, Twist, who had nearly taken off his head for his appearance at the oasis. Here, the heat of the desert was no concern; the temperature seemed moderate at all times, though here at the water's edge it was certainly cooler. And so the male finally lowered his head to drink, lapping up the water and quenching his physical thirst, though the water could not truly satiate the Mackenzie Valley male.
Though this was a new page for him, Ryker constantly felt an emptiness in him. His life was incomplete in some way, and he was not certain what he could do to fill the void. As the male stared down into the moving water, the distorted reflection of a gold-face wolf, with eyes that sung of insecurity and distrust, stared back up at him. This was what his life had become. He was nothing but a shell... existing. Somehow he thought that by joining Ultoris, it would fill the void in his life. But yet, the hole was still there.... lingering and tearing at the back of his mind. Was this how it would be forever?
---
Tags
:
Laurel
Notes
: This poor boy XD
[newclass=.pltxt]position: relative; z-index: 200; opacity: 0; transition: all 1.5s ease; -webkit-transition: all 1.5s ease; -moz-transition: all 1.5s ease;[/newclass][newclass=.plbase:hover .pltxt]opacity: .8;[/newclass][newclass=.pltxt::-webkit-scrollbar]width: 8px;[/newclass][newclass=.pltxt::-webkit-scrollbar-thumb]background: #aabfe1;[/newclass]