Post by Goliath on Feb 27, 2016 23:49:36 GMT -5
HOVER
[attr="class","plbase"]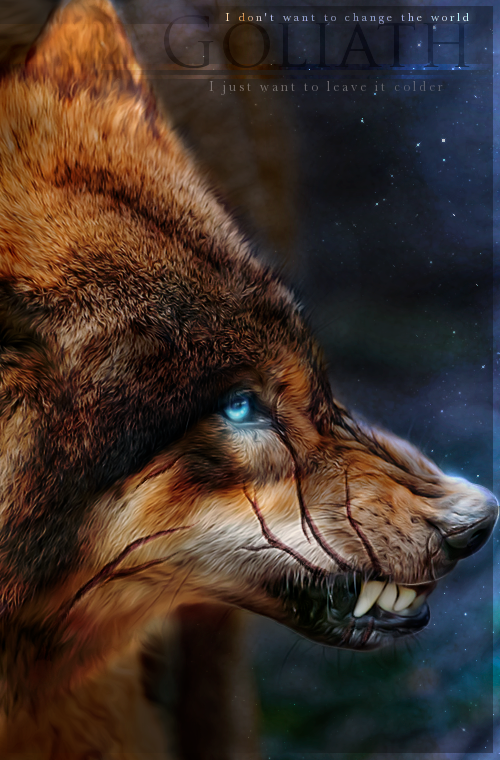 [attr="class","pltxt"]
It wasn't supposed to happen like this.
Goliath's teeth enclosed around the boy's throat, feeling the pulse of it on his tongue, warring and beating for its life. Enduring in the final moments of the fight; panicking despite having accepted his fate long before this moment came to be. Claws clambered for purchase against his face, an act of malice rather than desperation, cleaving wildly at whatever flesh he could rake his claws upon, but rage steeled the brute's resolve. He was too furious to relent. He made no efforts to change his stance, or alter his defenses, all but allowing Erebos the freedom to maim him as he wished. The physical agony held no meaning to the brute, offered no substance in comparison to the bone-rending sadness and exhaustion that wracked him, even now, when the perpetrator of his grief lay dying in his jaws.
A jerk followed by a strangled growl ended the frantic battle, and the burning claws fell away from Goliath's face, to his throat, and finally they hung limp, paws flexing as they sampled, in willful abandonment, the first moments of dying. Erebos was still breathing – barely – trembling in the final minutes of his life, scraping together just enough breath to shudder with laughter. A merciful, broken sound - a final insult, and the very last one Goliath would grant him. No longer would his son disgrace his name. He turned away from the gore, pale eyes flitting wildly to the surroundings, mind still whirring from the heated conflict. There was so much blood, soaked to the very bones of him. His blood, his son's blood -
Were they not one and the same?
He mused in sombre silence, blinking away the redness that had welled in the edge of his vision. A claw had intercepted the corner of his eye, and by some small grace from Fenrir, had missed blinding him by a hair's breadth. His nostrils were filled with the stuff, his nose cut almost in half by an errant tooth, and he swallowed back the blood that flooded his nasals, coughing at the blockage in his airways.
The sound of Erebos' fractured breaths faded behind him as he walked away, weary from the chase, and even wearier still from having felled his quarry. His bones rattled tiredly, stomach burning with physical starvation that had until now become unanimous with the emotive hunger to see Erebos suffer. What purpose had it served; Goliath rekindled the thought in vain, for Datura to die at the malevolence of her own son. For his mate to fall ill from the carcass that Erebos had left behind, a suspicious gesture that to this day, Goliath could not muster any fatherly pride or acknowledgement for. Indeed, Erebos had found a way to complete the Agoge, likely cheating his way through as was the boy's penchant for deceit and trickery – but even when he had returned, leaving a carcass for any and all to eat, to celebrate his return, Goliath had all but turned his nose at the meaningless trophy, unenthused by the glory Erebos was trying to bestow upon himself. In hindsight, the carcass had meant nothing of the sort – it was a goodbye, but one of sadistic valediction. A last attempt to burn everything to ash, after a short life of kindling a strange and harrowing resentment for Kairos.
For
him.
When it came to light that the carcass had been poisoned out of spite, Goliath's fury peaked, and blinded by the sheer filth of his anger, he had left Ina'mos to hunt the creature down. Consoling the Matriarch came a far second to consoling his own frantic wrath. Datura had followed, unwavering and undeterred despite the ailment that fettered her footing, resolute and stubborn to the very end. They passed through Acerbus, tracking his scent through Aveline – the boy was likely to have stayed with his sisters in Ananke, for a time, before moving on, expecting the pursuit and enjoying every moment. He led them merrily across the continent, pleased with his torturous game, knowing that his father's fury was all-too-easily led astray. When it came down to it, Goliath was nothing but a half-cocked beast, a fuse waiting eagerly to be lit. The inevitable day came when Datura finally passed away in her worsening condition, somewhere between the Oriens and Tiayr, weary from the journey, and Goliath had mourned in silence without once faltering. Truly, his anger was the ruler of him, his heart nothing but a dead weight inside pushing him towards vengeance. There was no opportunity to wallow or weep for the matriarch, not when the scent of his son was so strong he could almost taste it in the air, and feel the rush of anticipation course through him, like a hound awaiting a hot meal.
The fight was long and inelegant, not because the boy was a challenge for his father, but because Goliath was careful and had no desire to end it quickly. Erebos had been expecting him, though, and put up an admirable amount of resistance when it came down to it. It was a dirty fight, and an imperfect way to end an imperfect relationship between a boy and his father. No love had ever been shared between the two – but there was enough blood spilt between them to make up for it. By the end of the mess, Goliath had him bleeding out into the dirt and wheezing for air, and that was exactly how he'd left him. After all the nights that had kept him awake, imagining all manner of cruel demises Erebos might meet at his claws, when the time came to deal the killing blow, Goliath staved his rage and saw a far crueler outcome; for the boy to die out slowly, like an ember gently weakening until it blackened in the cold night. A pathetic end, and a fitting one. It would take him hours to die out, alone and incapable of uttering any clever final quips to shame himself. The deed was done, and as Goliath paced away from the bloodied scene, he was filled with a frozen sense of non-feeling, as though he had been told an awful truth that he was still blindly trying to refuse.
Erebos was gone, yet the relief never came – no closure or happiness, no finality or contentment. The thought was hollowing, yet the deepest part of him always knew the act would never bring him any semblance of peace, and yet still, he had pursued his course, abandoning Datura's lifeless body to chase his reprisal on the darkening horizon. Days passed and Goliath continued north, his sense of direction numbed still by the emptiness that filled him. He should have gone south to retrace his steps, back to Acerbus, and back to those that he had abandoned, but retracing his steps seemed counter-intuitive to moving on from his grief.
And so he walked anywhere but back. Messoria's eyes burned at the back of his memory, haunting him, knowing that he had hurt her by leaving. Hell, he'd all but declared that satisfying his own vendetta meant more to him than her wellbeing, and the small, simple moment it would have taken to let her know that he would be gone for an unknown amount of time. A sneer wracked his stinging maw, a grisly scold at his own temper. He deserved to be in pain, and it worsened each day. His mind continued to meander to all of those he had wronged by leaving – his children, his brothers, all of Kairos. Typhon –
Typhon
. The new Emperor of Kairos. The memory of his and Datura's departure struck him with an unwelcome surge of guilt, steeped in a humility he would have much preferred to have forgotten. Datura had done the speaking, braved the hardest part, whilst he merely stood in reticent silence, trying not to choke on his silenced laughter at her words. Lies, of course, truly neither of them would have abandoned Kairos for the childish pursuit of a simpler life…. but Datura had hid her illness well, at first, and they both wanted vengeance upon Erebos, to the inevitable pinnacle where duty seemed to fall short in comparison. They could not have told Typhon they were leaving to murder his brother, deserving as it was,as the boy did not need that weight on his conscience. Would he have allowed it, would he have tried to stop them – or worse still, would he have given his blessing, or joined them.
Sin, sin, sin.
It was better if he never knew at all. Perhaps there had been some thread of truth in Datura's words, amongst the great tapestry of her lies, but not for the reason Typhon might have thought. If Datura was to perish from the poison gradually killing her, then he would have had her final moments only with him. After all, Kairos had begin with only he and his Matriarch, was it not justifiable to have her life end as her life on Anikira had begun?
It did not matter now. Goliath knew he had much to answer to when he returned, that much was unavoidable.
Erebos truly had had the last laugh, it seemed, because after a week Goliath's wounds were still open, festering and smarting in the cool air, refusing to seal over. His face burned with every movement, every change in expression – blank, sad, angry, repeat – as both his snout and cheeks were littered with fresh cuts where Erebos' claws had raked in retaliation. The boy had been expecting him, and so it made sense to add insult to injury, for Erebos to coat his claws in some toxic concoction or another to make sure the fight would be one Goliath would never forget. That parting gift would be forever carved into his face, a reminder of the son he murdered – the boy who'd rather play with flowers and stare listlessly in the distance, than play or fight or be anything he was supposed to be.
Goliath inwardly cursed to a nameless god, finally admitting to himself that his limp was not the result of a strained muscle, but a paw broken amidst the brutal scuffle, and he sank to his haunches with a foul snarl catching in his teeth. This land was new to him - he knew the continent well, having explored Anikira alone in his earlier days, and he was almost certain this frigid land was out of place. His teeth gritted as he allowed the trivial thought to pass, having an abundance of other thoughts and regrets pressing down upon him. His face was aflame with open wounds, throbbing with the aftereffects of whatever rotten poison Erebos had infested him with. Blood clung to his every crevice, stiffening his movement as an unpleasant reminder of the filth that coated him. Goliath's gaze went heavenward with a scowl. How he had wished for sons, treasured the illusion of them in his virginal days; an army of capable heirs to herald Kairos to glory when he, curse his descent, fell too far from sanity to continue leading it. Erebos was born to be everything he desired in a son, but at every opportunity he had spat upon that good faith. Even now, the boy was dead, and yet Goliath still suffered him, and after weeks of silence, of unspoken prayers and revising every agonizing moment of their battle, an errant thought crossed his mind, harmless yet strange. Goliath finally let out the first sound he'd made in weeks – a throaty laugh, a futile admission that he suddenly wished Erebos had been born a girl.
Words: 1971 kill me
|OOC|
Erebos
I am going ahead with the original plot we had for Goliath to kill Erebos, I hope this is ok! I left it open-ended, though, so if you return and still want to play him you can.
Calantha
Go ahead and do ur thing girl
[newclass=.pltxt]position: relative; z-index: 200; opacity: 0; transition: all 1.1s ease; -webkit-transition: all 1.5s ease; -moz-transition: all 1.1s ease;[/newclass][newclass=.plbase:hover .pltxt]opacity: 0.7;[/newclass][newclass=.pltxt::-webkit-scrollbar]width: 8px;[/newclass][newclass=.pltxt::-webkit-scrollbar-thumb]background: #4b6592;[/newclass]