Post by Ryker on Mar 2, 2016 21:31:07 GMT -5
[attr="class","plbase"]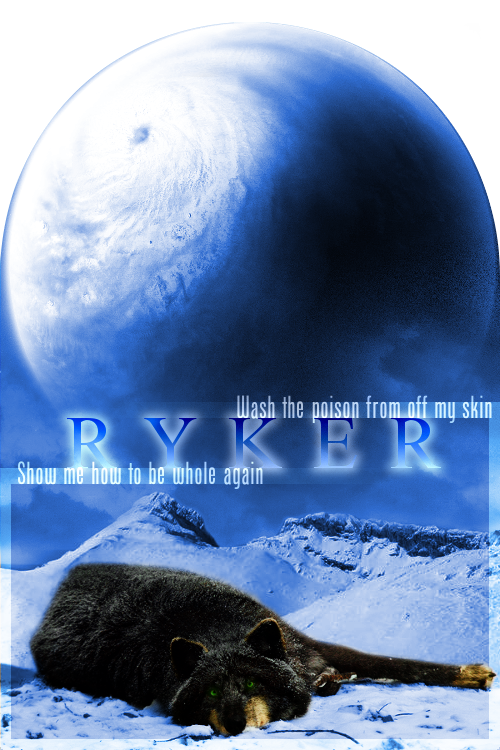 [attr="class","pltxt"]
The face in his head would not go away.

Ever since he encountered Antares, the flashes of these unnamed, unrecognizable wolves continued to flit through his head. Every second, he saw something or someone new. He could not stop the flood gates that were starting to open, and the shattering pain of the migraines he thought were long gone started to overwhelm him. Instead of staying up near the remainder of the pack, the Mackenzie Valley wolf instead fled to the inner confines of the pack's territory, seeking comfort in the dark. Here, where little light filtered, he could lurk and wallow in the pain that consumed him.

Shayde. Zirena. Vorilye. Valeria. Goliath. Zephyros. Sypher.

There were names and faces, yet nothing seemed concrete to him. He recognized many of the names from the young male, Galathe's, conversation with him, and he could only hazard a guess that these wolves were somehow related to him. Related to his past. There were so many of them, and there was no sense of organization about them. Instead, he was reduced to a constant whine of pain, his head throbbing and searing with each passing moment. And all he could do was wish for the pain to stop, while every moment seemed to consume him further into the void.

The past was coming back, and he had no way to stop it. Somehow, Antares had been the key to accessing the memories that had been buried away for so long. She had been the key that unlocked that gate, and his mind was fighting back with every bit of restraint it could muster. His subconscious and his current state of mind were at war, and it was only a matter of time before he had to succumb to himself. But what if I become something else? Someone else? The prominent thought lingered in his mind, nagging him at every second. He could be someone completely different; he could be a horrible murderer. After all, there were assassins after him.

But they were not after you, now were they? They were after Shayde. The same voice came back to the front of his mind, taunting him as another searing round of pain struck him.

They had been after Shayde.


---


Tags: Open
Notes: He's gonna be a wreck for a while.


[newclass=.pltxt]position: relative; z-index: 200; opacity: 0; transition: all 1.5s ease; -webkit-transition: all 1.5s ease; -moz-transition: all 1.5s ease;[/newclass][newclass=.plbase:hover .pltxt]opacity: .8;[/newclass][newclass=.pltxt::-webkit-scrollbar]width: 8px;[/newclass][newclass=.pltxt::-webkit-scrollbar-thumb]background: #aabfe1;[/newclass]