Post by Vorilye on Sept 17, 2011 22:10:16 GMT -5
OOC
Name: Uru
Years RPing: Too many
Other: I have too many characters already =)
How You Found Us: By creating the site

General
Name: Vorilye
Birthday: April 7, 2007
Gender: Male
Species: Mackenzie Valley Wolf

Physical
Height: 42 in.
Length: 63 in.
Weight: 155 lbs
Coat Color: Black and gold
Eye Color: Gold
Health Issues: None
Other Information: He is much larger than an average Mack. Valley Wolf.

Mental
Mental Stability: Sane
History: Vorilye's story is one filled with happiness, sadness, bitterness, and detrimental loss. The brute was born to a litter of four pups, of which only two survived. Vorilye and his sister, Arwen, were born into a small pack with alpha parents. As the first born son, he should have been entitled to the position of the pack's heir. However, one look at the pup by the pack's Shaman forever scarred his rights to the pack. The pup was born with a bright patch of gold on his muzzle and bright gold socks; he was unnatural, and therefore, he was shunned. The brute was even further rejected by the pack when his beautiful baby blue eyes shifted to a bright, enticing gold. His sister Arwen, a rare pure white Mackenzie Valley Wolf with vibrant green eyes, was named the pack's heir, under the condition that she take a mate by the end of her second year of life. While Vorilye did not necessarily resent his sister, he was certain disappointedat the pack's inability to look past physical differences.

With his upbringing, Vorilye was obviously the superior of his litter. He was a superb hunter, and vicious fighter, and he dominated all of his opponents with his sheer size. The brute was nearly unstoppable by the age of one year, mostly due to his abnormal height. However, despite the fact that he was the obvious choice for successor to the pack, Arwen found herself a lovely brute, and the two assumed the position of pack alphas on the two's second birthday. No more than six months later, Arwen and Harichi's first litter of pups were born.

The brute was overwhelmed with jealousy. None of the females would look twice at him because of his "cursed appearances," as they had been deemed by the pack Shaman. It was at this point that Vorilye left the pack, his self-worth extremely low. He had been scarce to speak for the last year, and he found it was easier to settle into a shadowy, non-existant position than to find himself in the spotlight once more. Vorilye had finally made his decision, and he abandoned the pack, his parents, and his sister without ever looking back.

The brute found that life as a loner was difficult, but it was not unmanageable. He could not provide sufficient food for himself, so he was much lighter than he had been with the pack. However, Vorilye found that, without the Shaman's cursed words hovering over his head, he could quite easily catch the eye of lone femmes wandering the continent. Many of them swooned over his size, his coat, his skills, and most importantly, his personality. It seemed as if things were looking up for him. He found what he believed was his soul mate in a beautiful great coated, green-eyed femme by the name of Ithilwen. She was an absolute stunner, and her personality was more attractive than her looks. She was sweet, loving, attentive, and everything Vorilye had ever wanted in a mate. The two eventually decided to settle down together, and they effectively created a new pack.

By Vorilye's third birthday, his mate had produced their first litter of pups, a wonderful set of triplets. The three were identical in appearances, and they were an absolute joy, although their antics caused more trouble than Vorilye would care to admit. He was completely in love with Ithilwen, and his three sons were all he could ever have wanted. Another year had passed, and the three males were nearing their mature size. Ithilwen produced yet another litter of pups, this time two females. Their family pack had swollen to a good-sized band of seven, and the brute could not have asked for a better situation.

Unfortunately, unbeknownst to Vorilye, Ithilwen had grown unhappy with her mate. She was tired of playing the position of submissive female to his strong personality. The female confided in her sons, and they concocted a plot to drive their father away, effectively taking the pack for themselves. While the four males were out on a hunting trek, Vorilye's sons turned on him; he could not possibly fend off three males, especially ones that he had trained himself. While they battled, the triplets told their father exactly what Ithilwen thought of them. He could not believe the brutes, and to avoid further physical conflict, he foolishly told the three that, if that was truly what Ithilwen felt, he would leave for good. He believed that they were bluffing in order to gain control of the pack. Little did he know, they were telling the truth.

One step back in the dens and looking into Ithilwen's eyes was all Vorilye needed to know. He could read her emotions through the windows to her soul. She had not anticipated his return alive, and the shock was quite evident in her face. With a raging howl, the brute took off, separating himself from the one he thought he had loved for so long.

Vorilye wandered the continent, manipulating females and taking whatever he could get from them. He fed off their naivety, and he sought only for personal gain. He still carries the resentment toward his mate, but he knows that he cannot continue living without someone to fill the emptiness that Ithilwen had created.

Personality: Vorilye is known for his avoidance of questions and his generally aloof nature. He is mostly silent, but the right wolf can draw out the more talkative side. When he wants something, he can be quite the smooth-talker. He is fiercely protective on those with whom he associates, and in a group he demonstrates superb leadership skills. While he will not speak unless prompted, he can be an excellent guide and an even better commander. Vorilye's main attribute is his skill in fighting; he is a formidable foe, and he rarely loses in combat. While Vorilye is typically a strong wolf, he does have his negative attributes. He is terrified of abandonment and thus finds himself clinging to the ones he loves most. He cannot survive well without a companion, as he has lost so much in his life that he cannot imagine living alone any longer. He will try nearly anything to find someone for a physical connection, as it makes him feel more alive. But he constantly craves an emotional connection, as he has been deprived of it for quite some time.

The main aspect of Vorilye is his inability to restraint personal desires. He is quite an attractive wolf, and he will use this to his advantage, manipulating females in order to find a sexual companion. While he knows this is wrong and will not act in such a manner towards a female that he truly cares about, it is an inhibits his chances of finding a mate, as he carries a bitter reputation on his back. Vorilye has fathered several litters of pups, but he does not know where they are or how old they may be.
Image: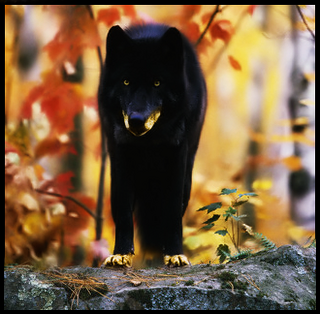 Note: This image was originally created for the character Lathron on Arvandor. The character was adopted by me, and the site is now closed.