Post by ahri on Apr 23, 2013 12:40:41 GMT -5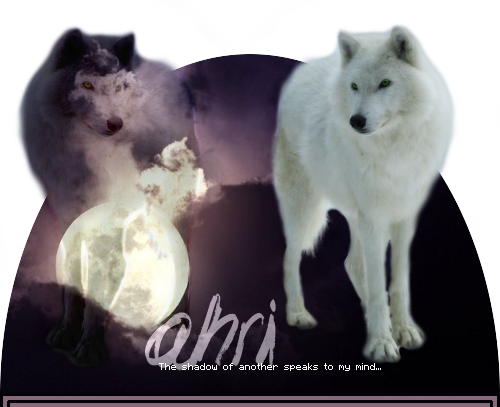 Never before had Ahri encountered such pain. It was nothing like when Belial had claimed her; no, this was much worse than she could have ever imagined. Perhaps her mate was wondering what had become of her after she bolted away from the pack and took refuge in the first open den site she could find. To make matters worse, Ahri had no idea what was happening. The pain was overwhelming, and the shuddering waves in her body brought fear to her heart. Was she losing the puppies? It was far too soon for them to come into the world, wasn't it? Of course, Ahri knew nothing about gestation periods or what it was like to be a mother. She was petrified, alone, and confused. How could she possibly make it through this?
But as the hours passed, Ahri gradually found herself settling in to the feeling of the contractions. As the first of her pups were born, she licked the sack away from her little boy, nosing him to her belly so that he could nurse. The process repeated over and over again over the next hour and a half as first another boy, then a third boy, and finally, a tiny little girl came into the world. They were her pride and joy; her only reason for living. And even though her mate was not nearby, she felt at peace with the world. In fact, she may well have been destined to be a mother with the sheer, overwhelming comfort the four wiggling, crying babies beside her brought. It was only then she started to brainstorm names for her children.
It would only be fair that she allowed her beloved mate to name one or two, but she already had some names in mind. The first little boy she nosed lovingly, while whispering his name in his ear.
"Goliath,"
she breathed to him, gentling caressing his head and face with her tongue as she cleaned him even further. He whimpered in response to her soothing words, and the brilliant smile that graced Ahri's face was unmatched. She gazed next to her second-born.
"And you, little one, you will be my Iinan."
She did not know where the name came from, but it simply rolled off her tongue. It was as if he was destined to be named Iinan; surely Belial would understand, with his strong belief in the gods. She gazed at her last little boy. Perhaps she should let Belial name the last two, but she simply could not help herself.
"Saosin, what's the matter?"
she cooed sweetly to her baby boy, licking his little rump as he suckled from her side.
As her eyes fell on the last of her babies, the only female, and the only one that beared any noticeable resemblance to herself, she knew without hesitation that Belial would want to name his daughter. Her mate adored her lovely white coat; perhaps daddy's little princess would be able to calm some of the rage that occasionally overtook him. She was perfect in every way, as were her brothers. The boys were all gigantic in comparison to their little sister. Perhaps their sheer size was a reason for the pain and the early birth of her pups. Either way, they were here, and they were healthy. That was all that really mattered in the end.
Word Count:
563 words
Tags:
belial
Notes:
This was not great, but for not having muse this was not too bad.