Post by Ryker on Feb 15, 2016 20:12:41 GMT -5
[attr="class","plbase"]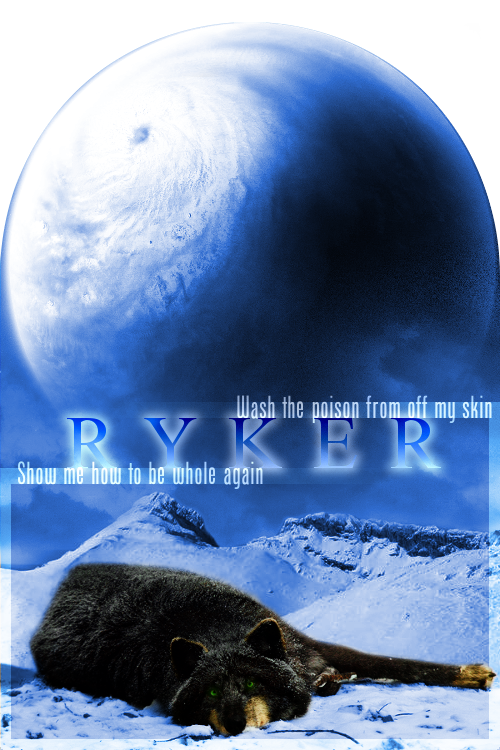 [attr="class","pltxt"]
Though Ryker had not known exactly what to expect of this place, the pack lands were far more interesting than he might have thought. Ultoris's lands consisted of the largest caverns he had ever encountered, yet after a very short time he adjusted to the lower light and closeness of the underground haven. This was exactly what the male needed; a world away from the rest of the world. Out there, he constantly felt vulnerable and alone. And although it would take him time to learn the ins and outs of pack life, he was fairly certain that he could make a home for himself here. That was, if the past did not come back to bite him.
Ryker could never really escape the sinking feeling that something was just out of his reach. Though he knew it was likely just the memories of his past threatening to break through, he constantly lived on edge. As a full grown male that was capable of taking care of himself, it was only this constant discomfort that had drawn him toward Aleru; the closeness and dividedness between Aleru and the rest of Anikira put some of his fears to rest. Zohartze had quite frightened him with her seemingly recognizing him and being afraid of him. Though she had never told him exactly who the Vorilye she referenced was, he could only hope that he had not previously gone by another name. He was constantly afraid that something in his past was going to reach out and snag him back in. Whatever he had been in the past, he did not want to go back there. Somehow, he knew that there was a darkness in him that he did not want brought back out, and perhaps this sheltered life would bridge his past and future together. Maybe if he could get over his insecurities, if his past
did
come back to him he would be prepared to deal with it.
But alas, right now Ryker was still a scared mess of who he used to be. Though many of the headaches had faded to a dull ache, the red eyes still haunted him every night. Every time he closed his eyes, they were looming right below the surface, threatening to tear him to pieces. It was because of those nightmares that, once he was accepted into the ranks of the pack, the male quickly found himself putting distance between him and the rest of the pack. He had a fear of not only corrupting others, but that he would manage to cause them some harm. Was he not dangerous in some right? Someone had sent assassins after him, so it would not shock him if they were still out there. He had to keep everyone else safe, and if that meant that, for now, he kept his distance, he would do it.
Ryker paced anxiously around the awe-inspiring rock formations, but there was little he saw besides his own failures. For such a strong male, he was constantly stuck in the past. And until he could find a way to escape his own insecure mind, he would constantly be plagued with the thoughts of "what if."
---
Tags
:
Galathe
Notes
: Anyone else is welcome to hop in too, but I want the brothers to meet XD
[newclass=.pltxt]position: relative; z-index: 200; opacity: 0; transition: all 1.5s ease; -webkit-transition: all 1.5s ease; -moz-transition: all 1.5s ease;[/newclass][newclass=.plbase:hover .pltxt]opacity: .8;[/newclass][newclass=.pltxt::-webkit-scrollbar]width: 8px;[/newclass][newclass=.pltxt::-webkit-scrollbar-thumb]background: #aabfe1;[/newclass]